Try a class
Turn your work breaks into 10-minute therapeutic and energizing yoga sessions.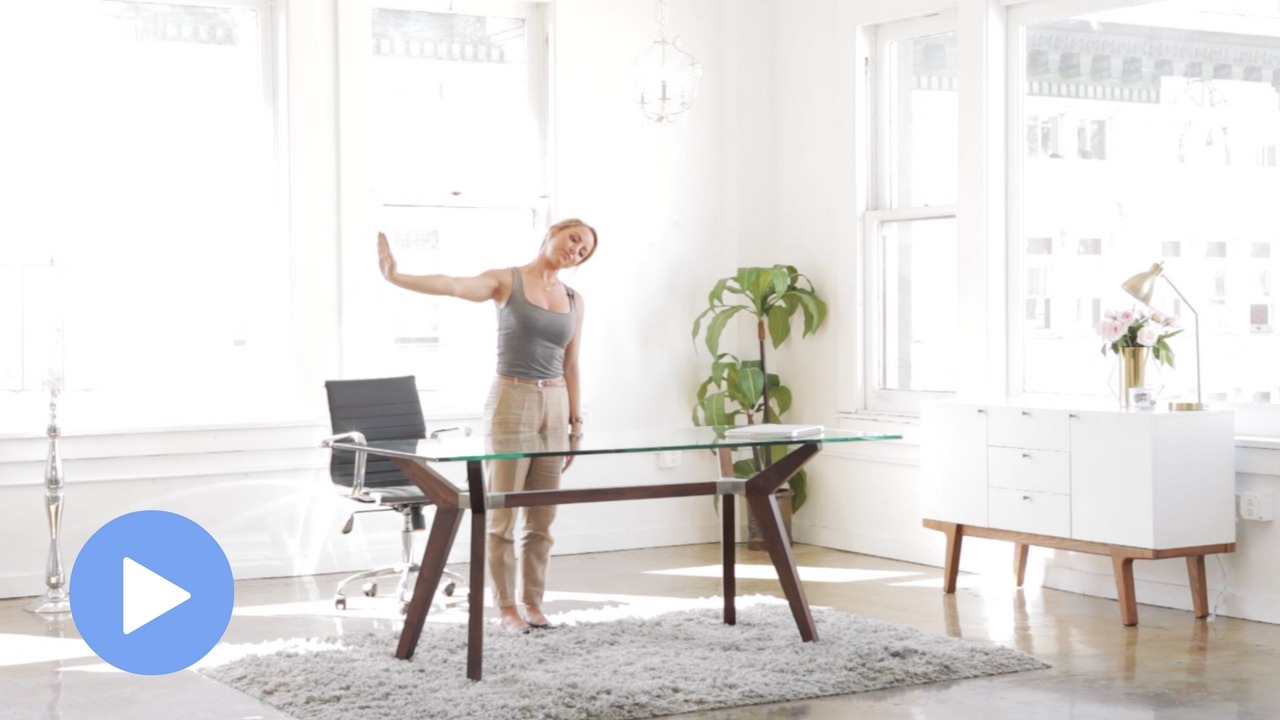 Happy Neck, Happy Life
10 minutes, 39 seconds
Restore and release the tension in your neck, through a series of sophisticated mobility exercises and static holds. No corner of your neck is left unhealed. This class ensures a pain-free neck and a clear mind, so you can be free to live your life.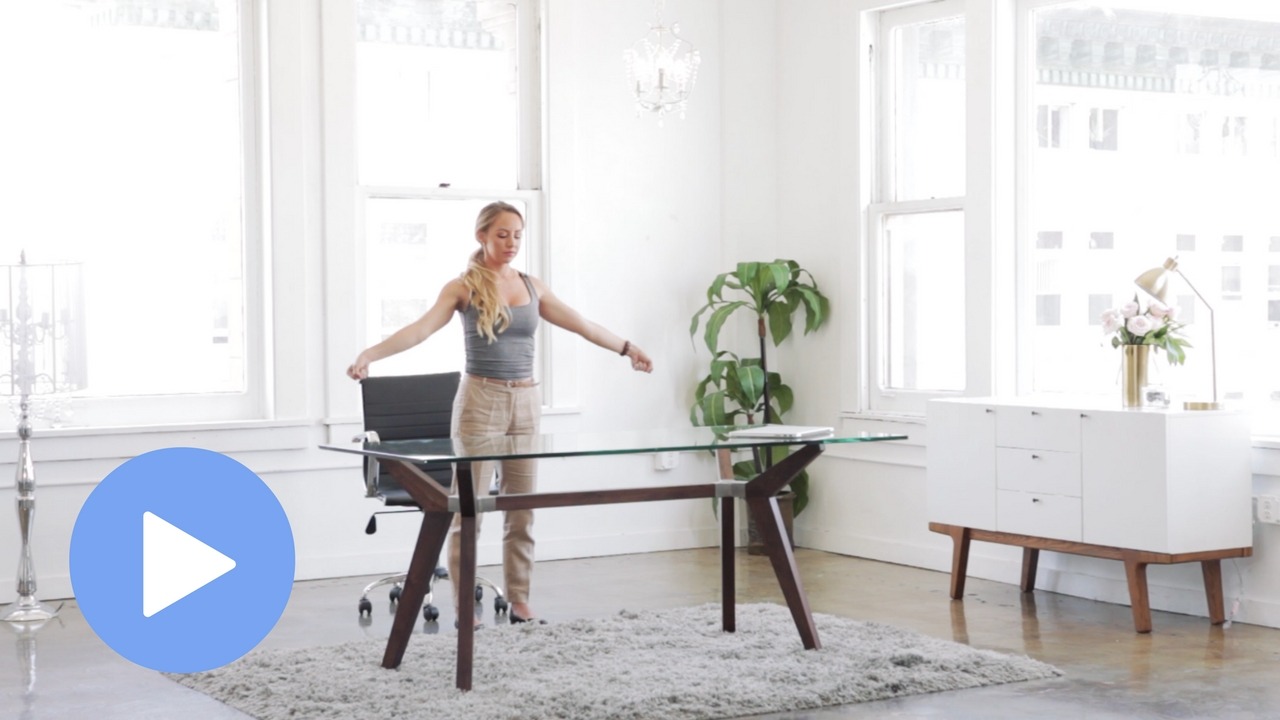 Wrist Stretching and Release
11 minutes, 32 seconds
Increase circulation and mobility in your wrists to keep them healthy and free of pain. This class uses a blend of use yoga mobility, static holds, and strengthening exercises for the ultimate synergy of wrist therapy.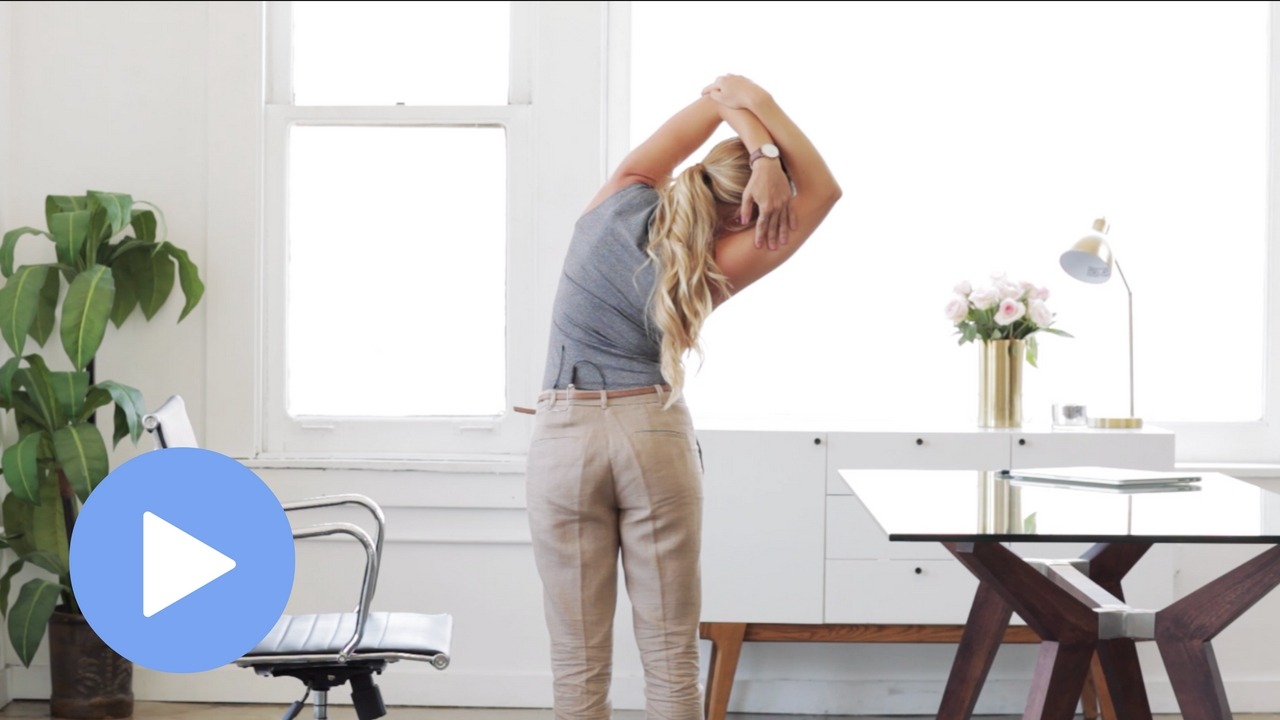 Detox Conference
9 minutes, 43 seconds
Your body wants to heal itself, if you help it do so. In this class we will help your body heal itself by moving your body through spinal twists and bends to stimulate compression and decompression, initiating a natural flushing in your system – aka detox.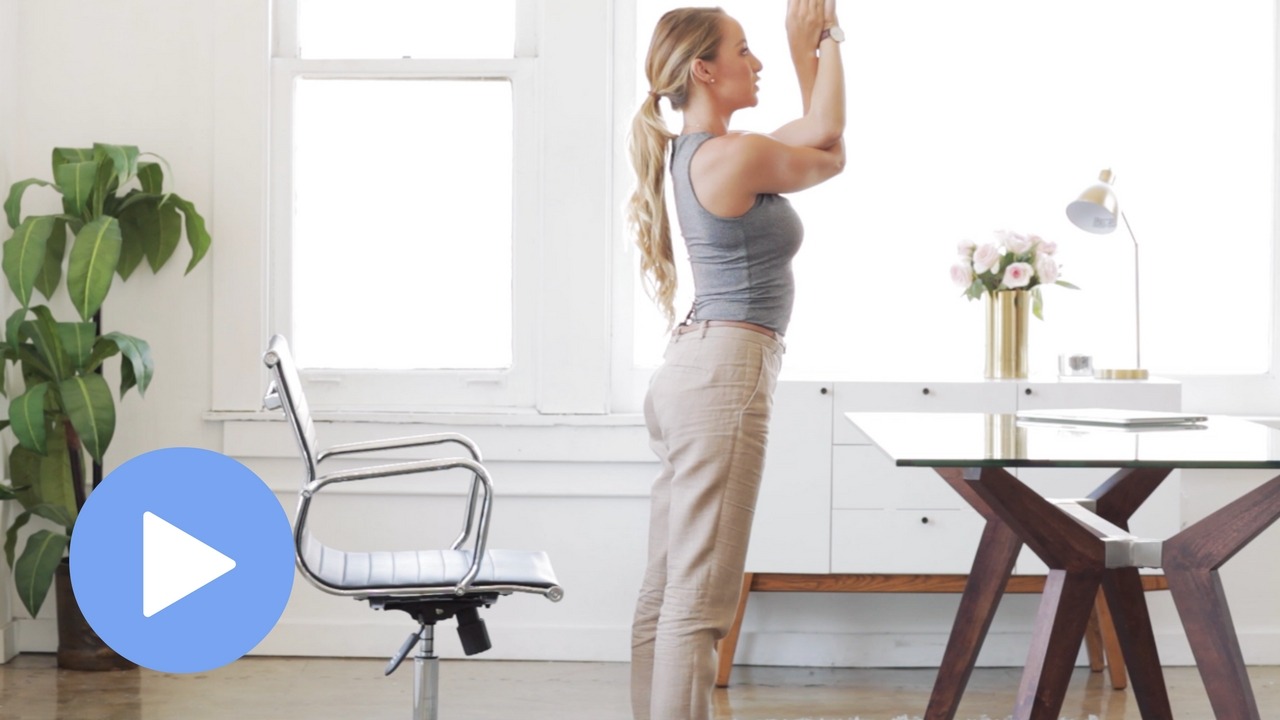 Game Changing Shoulder Reset
10 minutes, 51 seconds
Working at a computer for long hours, or emotional unrest can cause unwanted tension in your shoulders. This restorative and soothing class leaves you feeling like a weight has been lifted off your shoulders.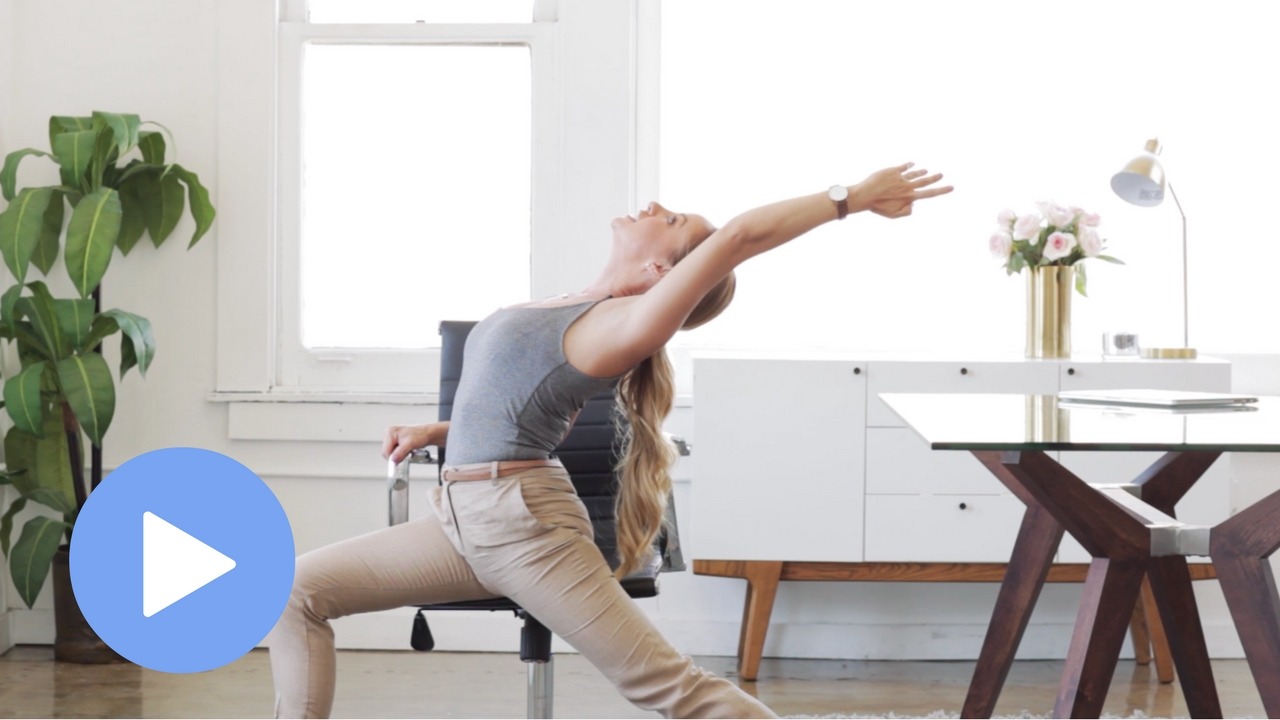 Office Warrior
10 minutes; 46 seconds
Ignite focus and steadiness through grounding and powerful warrior poses. After this class, you will feel like you can take on any challenge that comes your way.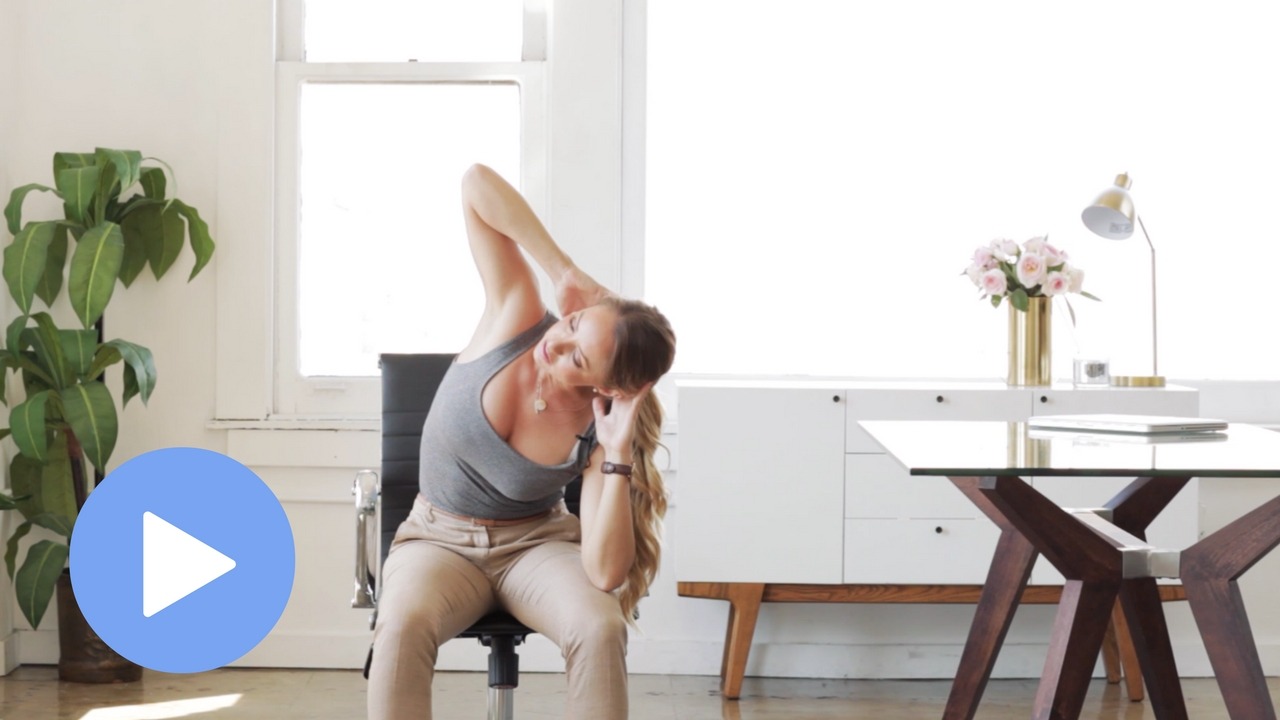 Core Yoga
10 minutes, 39 seconds
Through a systematic and integrated flow, you will strengthen the core and rev up your heart rate. Then you'll wind down and ease tension through stretching the quads, hips, and hamstrings. By increasing the blood flow in your body, we are rejuvenating your joints, and awakening the dormant energy, waiting to be broken free.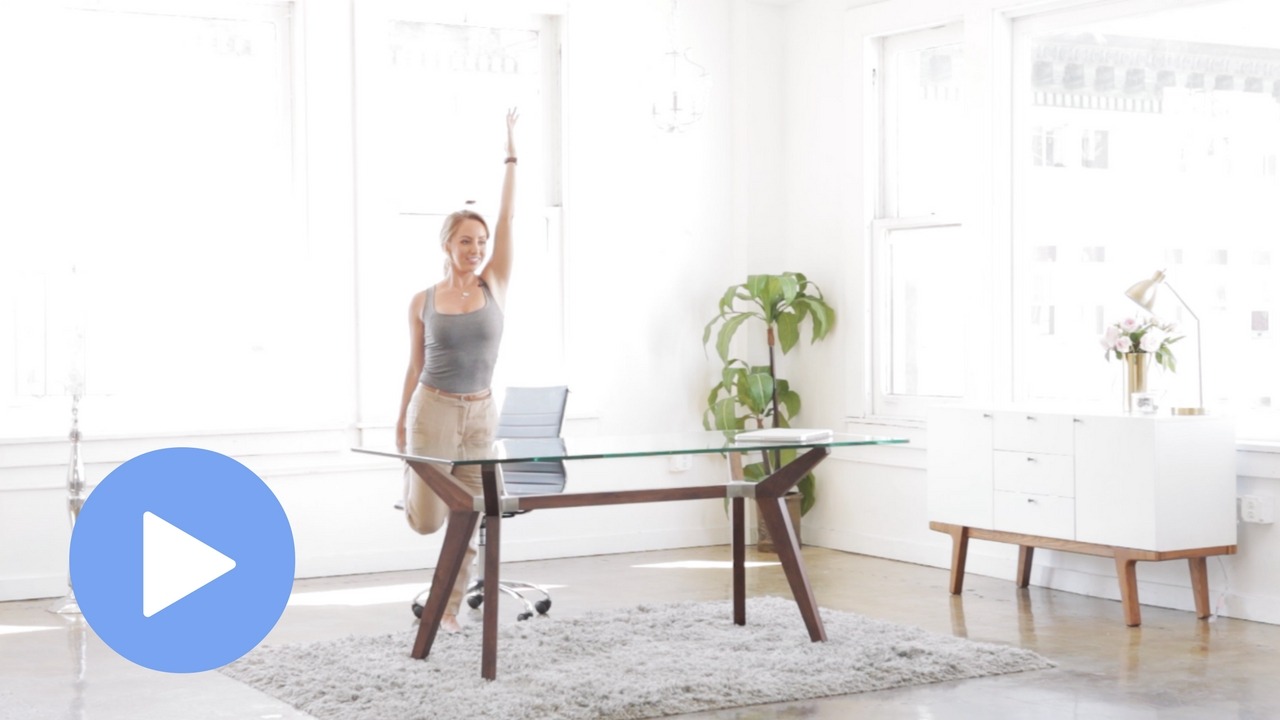 Total Body Energizing Office Yoga
10 minutes, 11 seconds
When you're run-down, you haven't slept, you're overworked, haven't had a break, or have too much on your plate – you may mistakenly think that yoga is the last thing on your to-do list. But an invigorating set of energizing yoga poses is exactly what you need in order to continue charging forward in your fast-paced life.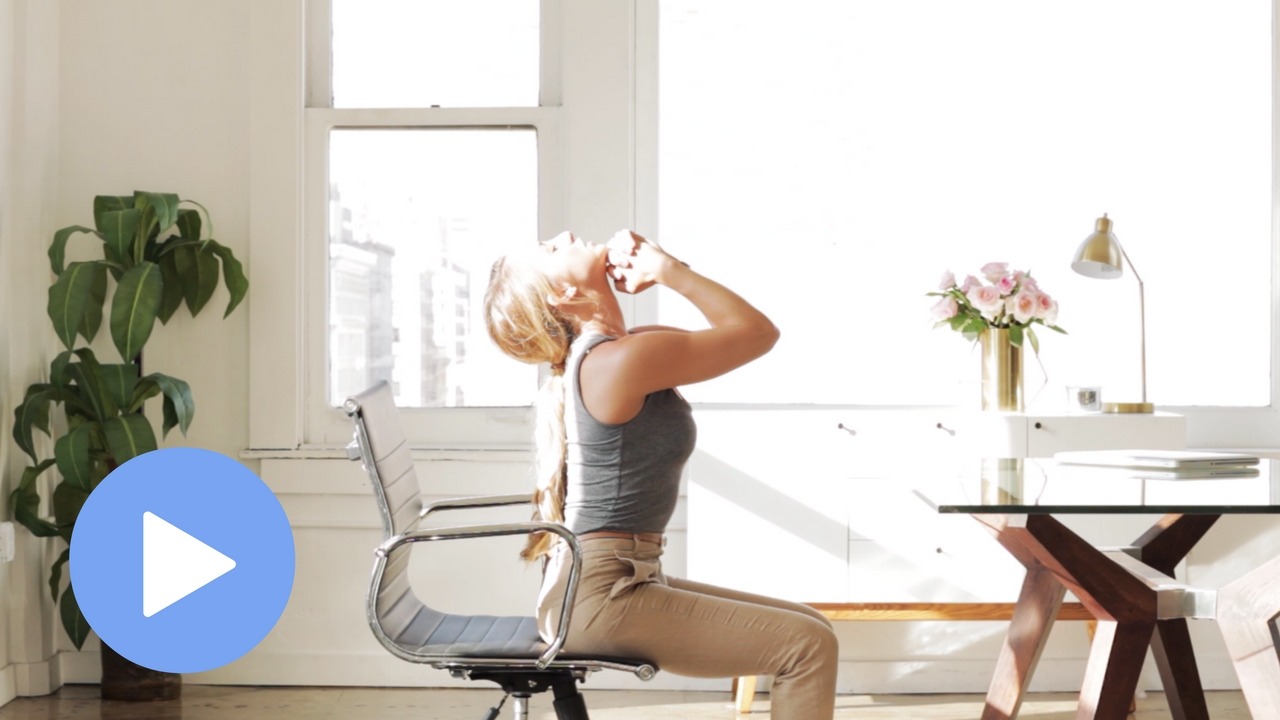 Reset and Refresh!
10 minutes, 55 seconds
Restore your body's energy and let your body mind's vitality shine through and burst open like a shining diamond.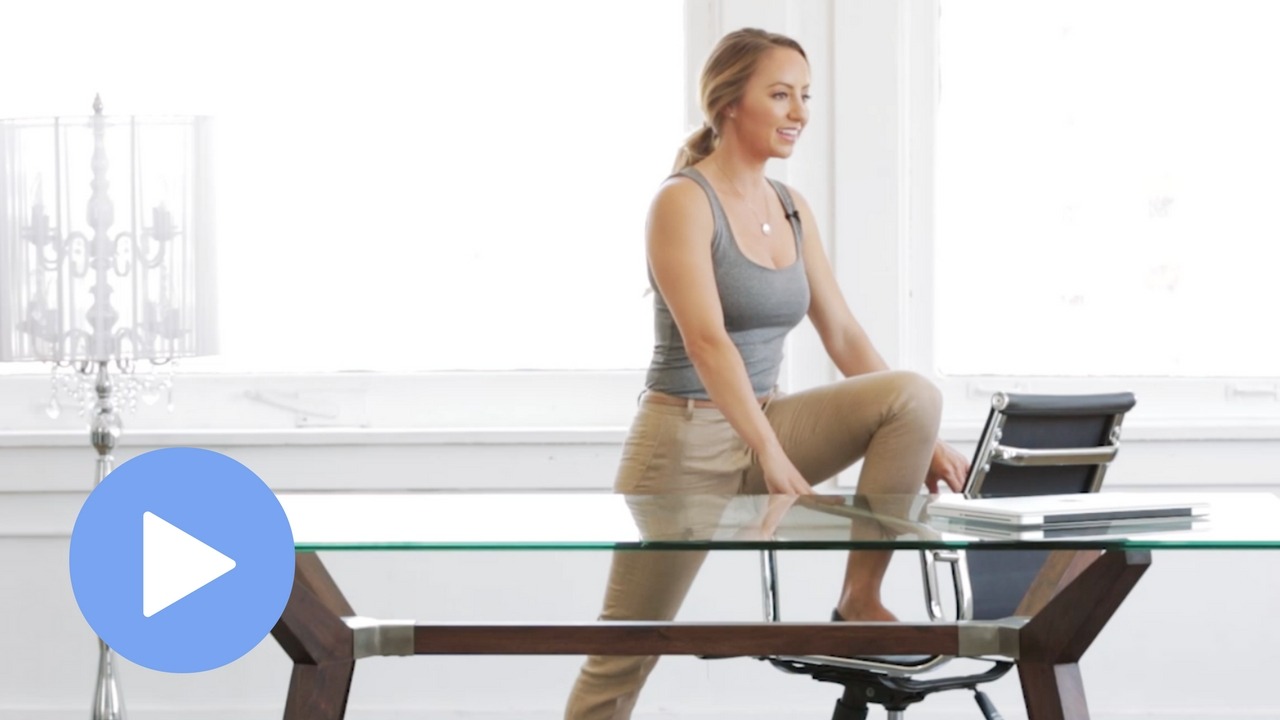 Lower Body Restoration
12 minutes, 26 seconds
Through a systematic and integrated flow of stretches, breath control, and recovery exercises, that will have your lower body thanking you. Promote a healthy body, and tap into your mind's potential as we awaken the dormant energy waiting to be broken free.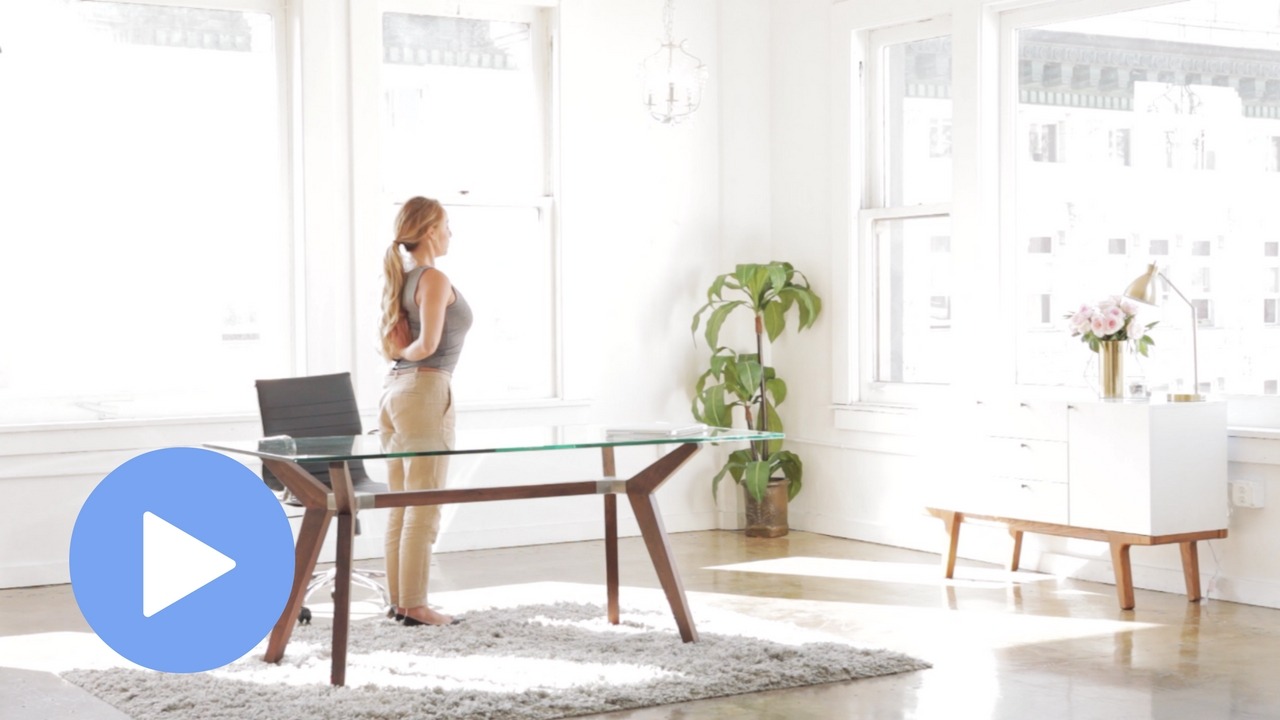 TGIF! Office Yoga Party!
12 minutes, 37 seconds
It's Friday! And it's time to party with office yoga! Celebrate your inner bliss and get ready to shine this weekend. Release stress or tension from your week in this body-­warming and mind-­centering party, leaving you open and ready for new experiences this weekend.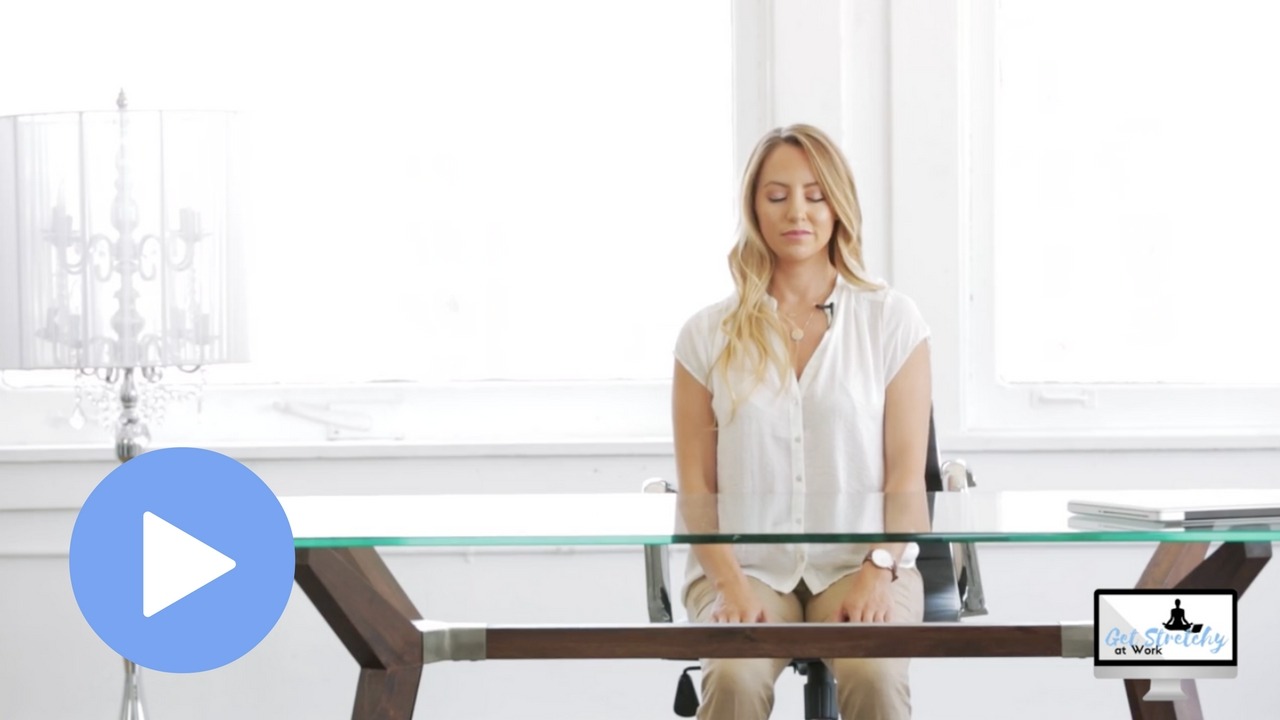 Chaos Calming Posture & Breathing Class
3 minutes; 42 seconds
Through gentle breathing exercises, you will be able to put the office stresses at bay as you restore your body, quiet your chattering mind, and renew your spirit. This bonus class will teach you the technique of practicing good posture while sitting, and how to connect breath with movement. Connecting breath with movement is the key to having a strong yoga practice, although it is rarely taught. Watch this class as many times as you like to help hone your breathing, practice good posture techniques, and de-stress from the chaos around you.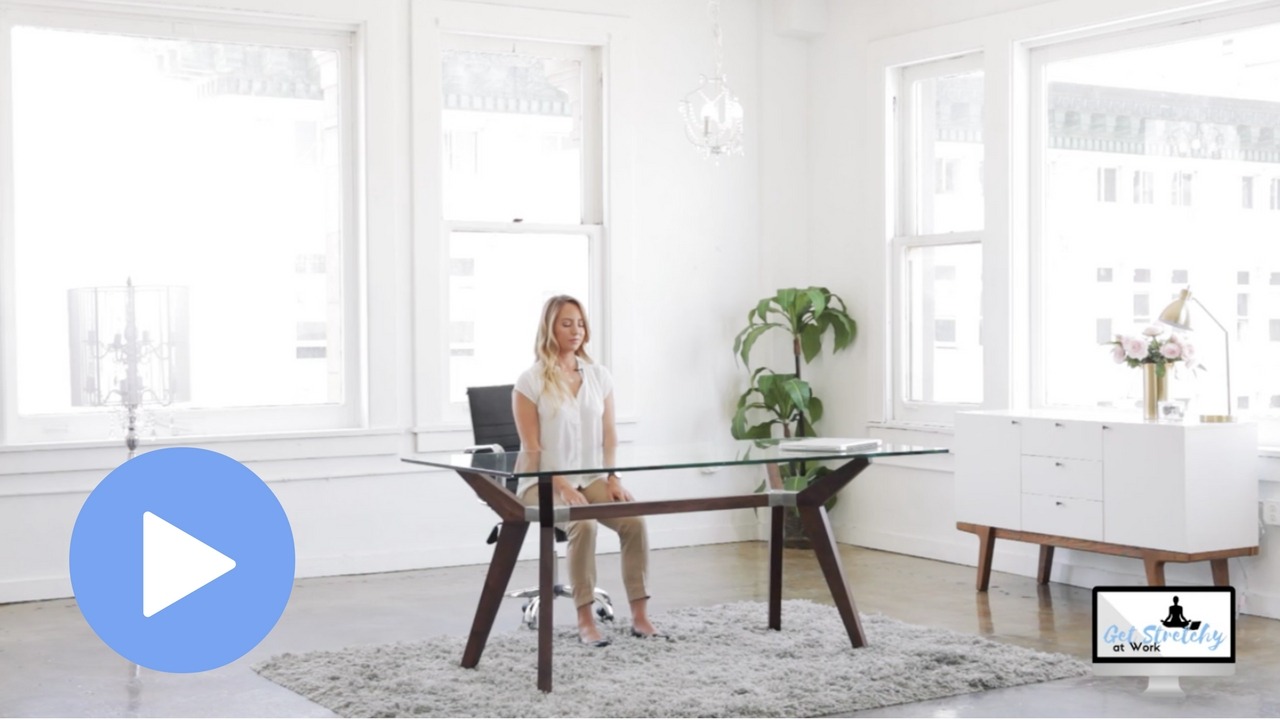 Metabolism Boosting Breathing Class
3 minutes; 41 seconds
Speed up your metabolism with an active breathing technique called Kapalabhati. (It's harder to pronounce than it is to do it!) It is a miraculous yoga breathing exercise for complete body fitness. You will learn to activate the deepest muscles of your core and pelvic floor. This breathing bonus class will promote a healthy metabolism, renewed blood circulation, and will awaken your Kundalini – the energy sitting dormant at the base of your spine. It only takes a few minutes, but the powerful results will carry you through your day and week.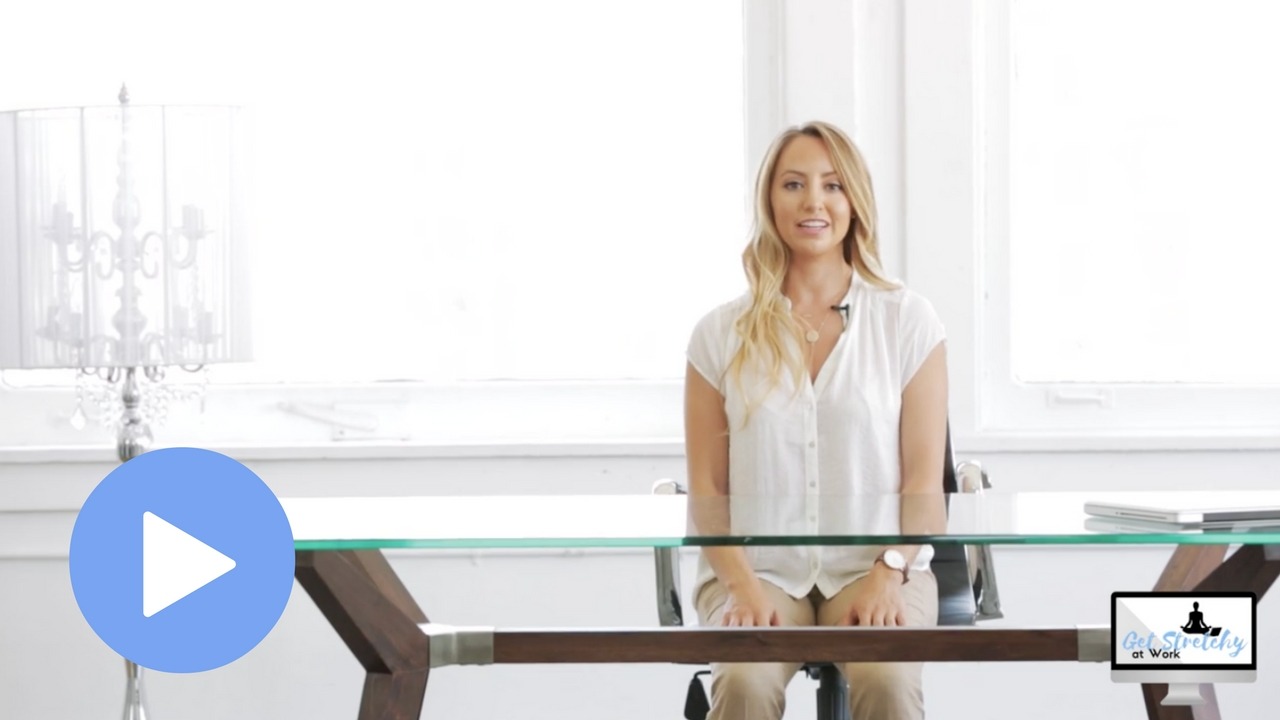 Set Your Intention
7 minutes; 20 seconds
Because if you don't have a purpose everyday, then what's the point?
This exhilarating bonus video will guide you, step-by-step, towards liberating your inner most ambitions. We dig deep and use calming meditative practices to set your intention – leaving you empowered to go after your greatest, scariest, and most rewarding goals.
You can be anything you want to be.
You can do anything you want to do.
You have questions, we have answers
How does this work?
With one membership, you will create a unique login to the online program. Your profile will track your progress and let you know where you last left off.
Do I need this program?
Studies show that 10 minutes of physical activity throughout your day has massive positive impacts on your body's health. This program focuses on areas that are impacted from being immobile at work.
What if I'm unhappy?
If you are unsatisfied for any reason, email us within the first 30 days and we will give you a full refund.
GetStretchyatWork@gmail.com