If you're like me and love Pumpkin EVERYTHING during this time of year, then you are going to love these pumpkin spice gluten-free Twix bars!
They are insanely delicious, protein packed, all natural, gluten free, soy free, non-GMO – the whole shebang.
I used my favorite Maca Salted Caramel Vegan Protein Powder from Vivo Life. It's a high performance blend of bio-fermented pea protein, cold pressed hemp protein, and vegan BCAA. It also has energy boosting maca powder, and sweetened naturally with lucuma fruit. It has such a smooth, nutty flavor that I crave everyday, and I know you will too!
 (Remember you get 10% off at Vivo Life when you use my code ACTION10!)
Stay away from all the refined sugars, and make this treat instead! Your health will thank you for it 🙂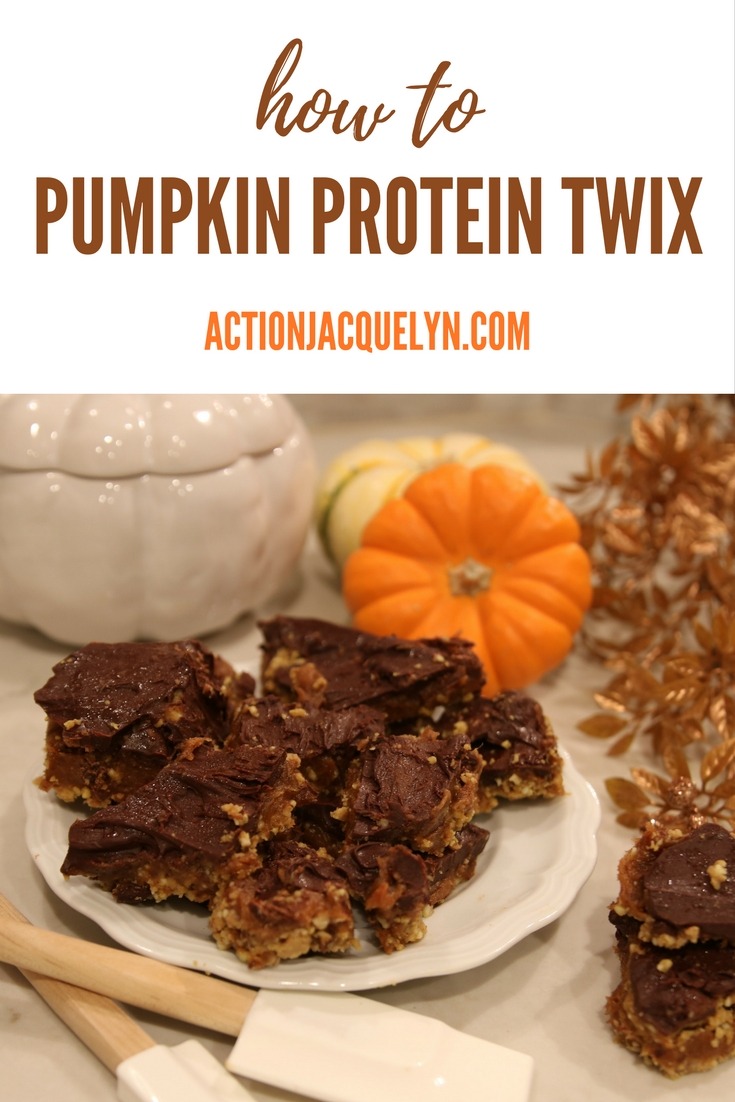 Ingredients for the base
1/2 scoop PERFORM Salted Maca Caramel – (Use code ACTION10 for 10% off!)
1/2 cup cashews
1/2 cup pecans
2 tbsp peanut butter
1 tbsp maple syrup
For the filling
1.5 cups of dates, pitted
4 tbsp coconut milk
2 tbsp peanut butter
2 tbsp pumpkin puree
1/2 tsp cinnamon
1/4 tsp ginger
1/8 tsp cloves
Pinch of salt
For the chocolate coating
70g of your favorite raw / vegan chocolate
Directions
To make the base of the bars, pop the cashews and pecans into a food processor, or high speed blender, and blitz until slightly crushed. Now add in the protein, peanut butter and maple syrup and blend until well combined. Press this into a lined brownie tin and pop into the freezer to set.
2. For your pumpkin caramel, add the dates, pumpkin puree and coconut milk into a food processor or high speed blender and blend until smooth and creamy. Add in the peanut butter, salt and spices and blend again. You want this to be nice and thick and completely smooth in texture. Spread this over the top of the biscuit base and return these to the freezer for 2 hours to set.
3. Gently melt your favorite raw/vegan chocolate bar until liquid. You can add in a tsp of coconut oil if the chocolate is too thick. Slice the bars into portions and coat in a layer of chocolate. Pop these back into the freezer for an hour to allow the chocolate to set, and then enjoy!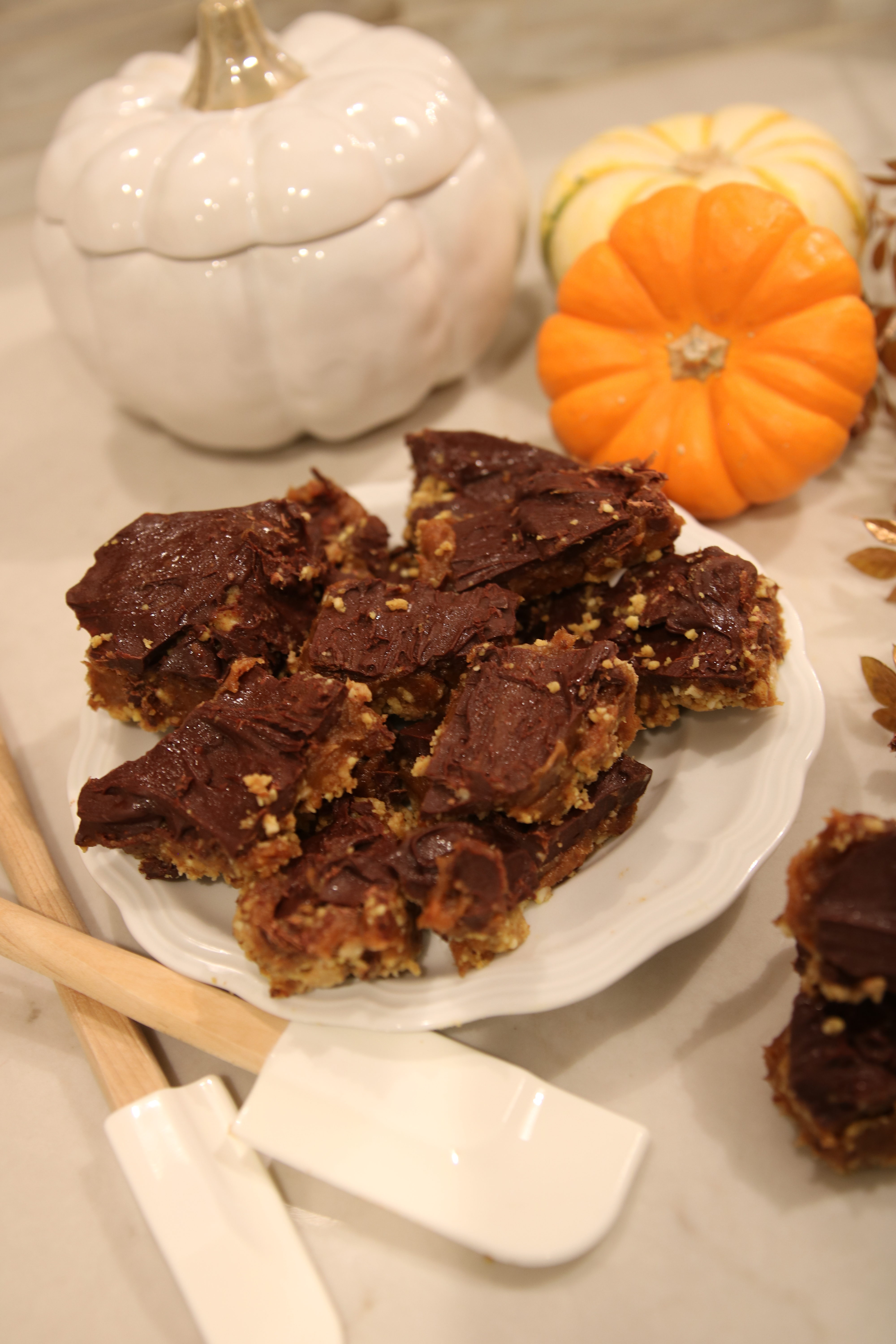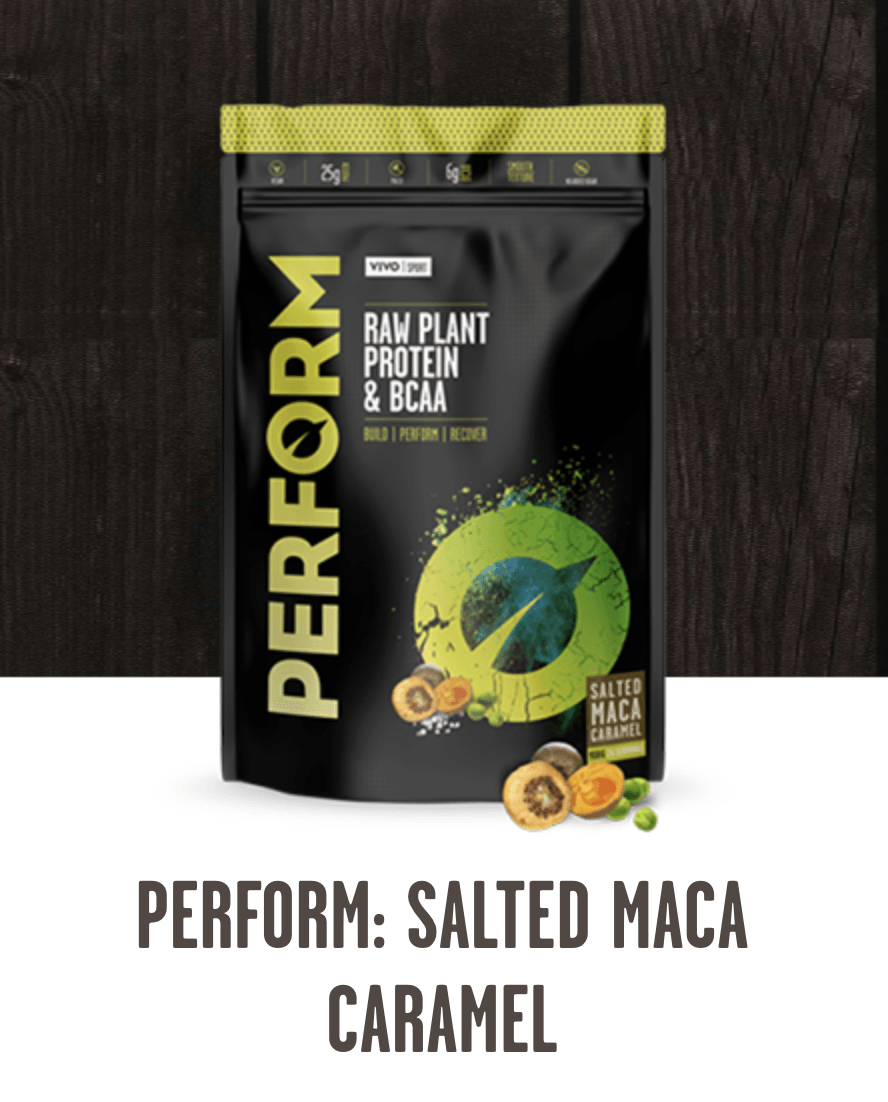 This is my latest obsession. I love Vivo Life products because their products are clean, pure, and of highest quality. It's really rare to find a product that is both high quality, delivers the nutrients I need, and tastes good!! This flavor in particular tastes good in so many recipes. I love knowing that I'm eating only the best. Perform Protein is 100% Plant Based Protein Powder that is great for your health, tastes incredible, and delivers epic results.
Learn more about my favorite protein powder right here!
Use my code, ACTION10 for 10% off all their products!
Take Action!
Join 1000s of dream makers, just like you! You'll get access to 25+ exclusive workout downloads, plus fresh Barre, HIIT & Yoga videos each week, recipes, and inspiration on living your BEST LIFE!!!
Comments
comments