No prior yoga experience required 
You're going to LOVE your new Splits30 Online Yoga Program! Learn the best and most effective stretches to get you to the splits, learn how to modify each yoga pose, learn the basics of yoga, strengthen the correct muscles to achieve the standing splits, and advance your splits if you already have them.
Love it or your money back.
$57
Enroll Now
What you get
✓ 10 Splits30 course videos you can access anywhere! (25-30 minutes each)
✓ 1 Splits30 warm-up video
✓ BONUS Splits30 Video 1: Advance Beyond Your Splits
✓ BONUS Splits30 Video 2: Therapeutic Savasana Meditation
✓ Downloadable Journal Guide, Pre-Course Checklist, and e-book List of every pose
✓ Personal Tracking System
✓ Complete 30-day Schedule
✓ Stream all of your videos and download course materials immediately after order!
Enroll Now

Benefits of Splits30
Skyrocket Your Flexibility
Splits30 gives you a step-by-step approach to taking your flexibility to another level. Everyday we work on opening your hips, hip flexors, outer hips, hamstrings, inner thighs, quads, calves, feet, IT band, and more. Every pose has modifications so you're able to take the course at your own pace, in the privacy of your own home.
Improve Your Yoga
Learn the basics of yoga, connect to your breath, learn how to modify poses, and feel more comfortable next time you walk into a yoga class. After doing this program your mind will feel refreshed and refocused.
Prevent Injuries
There is scientific evidence that the incidence of injury decreases when you have a flexibility training program in your routine. You will also see an improvement in your other physical activities outside of yoga, help your joints move through their fullest range of motion, and enable your muscles to work most effectively.
What to expect
✓ Unlock your potential to do the splits
✓ Surrender to the present moment
✓ Feel more connected to yourself and all things
✓ Strengthen the correct muscles for standing splits
✓ Release overall tension that causes injuries
✓ Improve your yoga practice
✓ Connection and awareness to your own body
✓ Learn modifications for common yoga poses
✓ Exponentially increase your flexibility
✓ Soothe and heal the body
Enroll Now

Download your Splits30 Starter Kit and try a FREE Class!
Enter your info below to immediately receive your password to a free class from Splits30.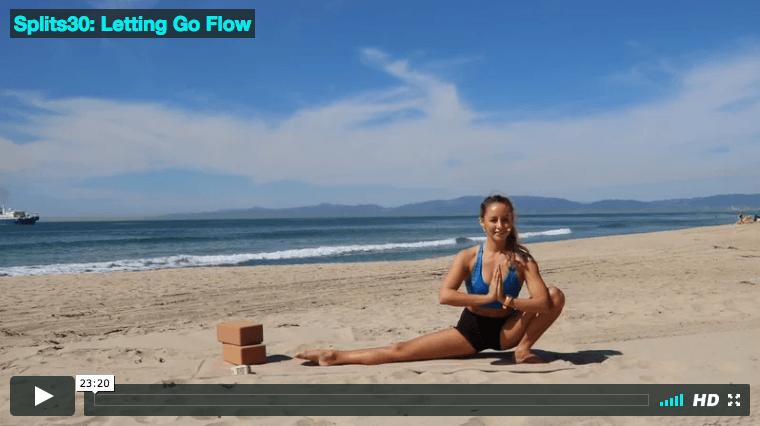 Workout Anywhere
Feel completely comfortable learning new poses in the comfort of your own home with online streaming videos, optimized for every device so you can always login and view your videos, from any and all of your devices.
Beautiful Backdrop
Do yoga with me every day in Manhattan Beach, CA! Each video was filmed in front of the beautiful sandy beaches, and clear blue skies, with the sounds of relaxing waves crashing. Everyday I lead you through incredibly inspiring and challenging yoga routines that make you more connected to yourself and others, less prone to injuries, and closer to doing the splits.
Guarantee
Sign up to try a FREE Splits30 class before enrolling so you know if it's the right fit for you. Click here to sign up. If you're not happy within 7 days of enrolling, then you deserve your money back.
Ready to get started?
One membership grants you immediate and lifetime access to the program
Press Play for a Sneak Peak
Who is this program for?
Beginners
Total beginners will little to no yoga experience looking to increase their flexibility, learn new yoga poses, learn modifications for very common yoga poses, and feel more comfortable consequently stepping into a yoga class – this program is for you.
Dancers
Having been a dancer for the majority of my life, I know the importance of having flexibility while dancing. This program takes my years and years of dancing training, combined with my yoga teaching experience, to give you a comprehensive program that will help dancers improve their splits and overall flexibility. I've designed this program to be safe and effective with a warm-up before each course video and proper alignment and technique queues throughout each video.
Athletes
Athletes will little to no yoga experience looking to increase their range of motion, especially in their hips, thighs, calves, inner thighs, hip flexors, hamstrings, and feet. This program combines both static and dynamic stretches to aid in increasing the body's overall range of motion, and ultimately help prepare an athlete's joints for explosive and complex movements.
You Can Do the Splits!
This Program Has Everything You Need To Start Within Minutes
You have questions, we have answers
How does this work?
With one membership, you will create a unique login to the online program. Your profile will track your progress and let you know where you last left off.
How often do I do the videos?
The program is laid out for you to do one video everyday. Each video is anywhere from 18-25 minutes long.
Are there transaction fees, or contracts?
No contracts, or transactions fees.
I'm not good at yoga. Will I be able to hang? 
No such thing as being bad at yoga!! You do not need any yoga experience to do this program. I will teach you everything you need to know, show you modifications, and keep you safe everyday. Your flexibility will improve, and so will your yoga practice.
What if I am unhappy with the course? 
If you are unsatisfied for any reason, email us within the first 30 days and we will give you a full refund.
Download your Starter Kit & try a FREE Splits30 Class
Enter your info below to immediately receive your password to a free class from Splits30 and your starter kit.